STARTUP MEET AT KLS - IMER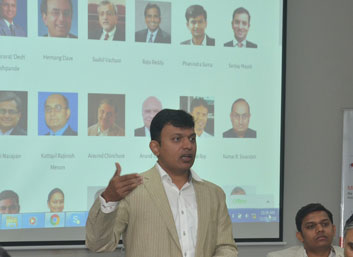 SANDBOX IMER conducted a startup meet for the budding business entrepreneurs of Belagavi on 26th Nov. 2016 at SANDBOX IMER Incubation Center, Hindwadi Belagavi.
The startup meet was organized with an objective of providing an active platform for startups to share their business ideas, growth plans and various issues related to their business enterprise (Startups) amongst themselves and with the experts/mentors.
The following experts/mentors interacted with the Startups-
Mr. C. M. Patil, Chief Executive SANDBOX Startups, Hubli
Mr. Ravi Lingure, Investor
Mr. Raj Belgaumkar, Chairman KLS IMER Belagavi
Dr. Purushottam Bung, Director KLS IMER, Belagavi
Experts/mentors informed the startups that the SANDBOX IMER incubation center will also provide opportunity to get incubation support like:
Basic facilities to start their operations
Technology support from Sandbox Startups team
Business and Sales mentoring
Access to talent pool through our partner network and in house
Secure operational environment
Access to the mentors on need basis who are part of our network
Assistance with regard to Finance, Accounting and Taxation etc.
Thirty budding entrepreneurs of Belagavi and from other parts of the country participated and interacted with experts.