Centre for Marketing Research
Coordinator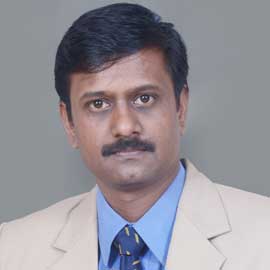 Mr. Shreekant G. Naik
Sr. Lecturer
Mr. Shreekant G. Naik
Sr. Lecturer

B.Pharm., PGDM., M.Com.

Experience: 10.5 years in Industry (Companies like Morepen Labs, Novo Nordisk, Ranbaxy Labs.) and 4 years in Teaching.
Vision
To provide an opportunity for management students to apply marketing theories and methods to improve their knowledge level in areas such as marketing, consumer behavior, customer relationship management including business analytics.
Mission
Establishing KLS IMER as a dominant school in the marketing area by undertaking academic research, marketing surveys and investigative enquiries through management students and provide consulting solutions and training to help local, state and national level companies.
Objectives
To provide learning opportunity for students under the guidance of faculty to understand Marketing Research which provides sound basis for the formulation of all marketing plans, policies, programmes and procedures.
To study the needs, wants and expectations of consumers by the students with faculty guidance.
To suggest the introduction of new products, modifications of existing products & packaging and to discover new uses of existing products to the companies.
To study existing pricing, channels of distribution and market competition for suitable changes, if necessary.
To know the company's expected share of the market, goodwill & market reputation and to estimate potential buying-power in various areas.
Activities
A market study of heat treated ductile iron digger tooth in Belagavi, Bagalkot&Dharwad Districts: Jan 2017 to May 2017.
The Five Days Lowest Price – Promotional activity at Big Bazaar: 24thJan to 28th Jan2018.
Product launch for Nisarga Milk Brand in Belagavi City: 1st Nov. 10th Nov. 2018.
A prelaunch study of market for digger teeth in Belagavi, Vijayapur and Bagalkot Districts for Abhishek Alloys Pvt. Ltd. Belagavi: 14th Jan. 2019 to 26th July 2019.
Market research on consumer preference towards petroleum stations in selected areas of Belagavi city for SS petroleum (Reliance Petroleum ) from 15th Nov. 2018 to 15th Dec. 2018 .