Launch of Sandbox Uplift at KLS IMER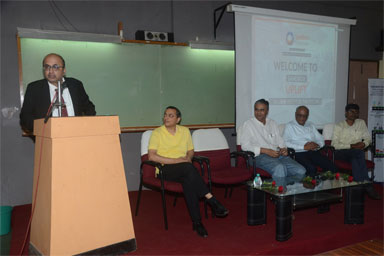 Sandbox Startups hosted the first Uplift pitching competition at Sandbox IMER. This competition gave entrepreneurs the opportunity to pitch their business idea in front of industry experts in hopes to win a chance to get incubation support at Sandbox Startups. Winners will be able to tap into an entrepreneurial ecosystem that provides: a platform to market validation, mentorship and networking opportunities from Sandbox Startups extensive market network, as well as access to Venture Capitalists and in-house funding. Furthermore, they will be given unlimited access to the 'state-of-the art makers' lab and ESDM cluster.
From the 27 applications that was received for the Belagavi location, seven startups were selected to Pitch their business idea and plan. Each entrepreneur was given five minutes to present their ideas to the judges, with a five minute question and answer, giving the startups the opportunity to engage with the judges as well as gain insights and feedback about their ideas.
Following startups pitch their business ideas:
Local view
Novel Tech Labs
Micro Electronic Controls
Adis Technologies
Captain Cook,
Mantilla and
Ankqur Ecosystems
The highly esteem judging panel consisted of:
Mr. Rajendra Belgaumkar (Chairman, KLS IMER)
Mr. Vivek Punekar (Former CHRO at HCL)
Dr. A. S. Deshpande (Principal, KLS GIT)
Mr. Venkatesh Patil (Entrepreneur and Venture Capitalist) assessed the feasibility of ideas and gave insights to the startups.
Mr. C. M. Patil, CEO, Sandbox Startups and Mr. Golden Frankly VP - Strategy, Sandbox Startups were also present on the occasion.