"Weekend with Sandbox Startups", at Sandbox IMER Incubation Centre, Belagavi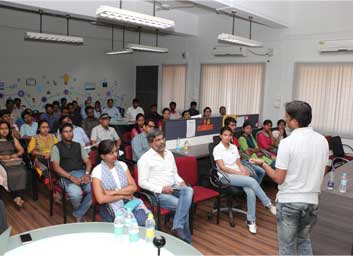 The Sandbox - IMER Incubation Centre hosted "Weekend with Sandbox Startups" which was scheduled on 15th April, 2017 at KLS IMER, Belagavi. The event provided budding and aspiring entrepreneurs with a unique opportunity to present their startup ideas. It is an opportunity for innovators to get incubation resources while testing their ideas and realizing their entrepreneurial potential.
The Weekend with Sandbox Startups began with an interactive session with established startups and sandbox Startup team. The event was open to innovative entrepreneurs across Belagavi, providing them an opportunity to get incubation support from Sandbox Startups. 50 plus budding entrepreneurs and Startups participated.
Presentation of Sandbox Startups was made by Mr. C M Patil, Chief Executive of Sandbox Startups. Startups/budding entrepreneurs presented their ideas as well. Later on, 2 groups were formed to discuss further, one group on ideation and another group on revenue making Startups on the challenges faced by them, this event helped the innovators to enhance their pitches and Sandbox Startups team expressed their commitment to support and help all the Startups of Belagavi region.
The Startup who would like to get incubate in Sandbox Startups in Hubli or Belagavi, would be given the below mentioned support from the incubation center;
Basic facilities to start their operations
Technology support from the Sandbox Startups team
Business & sales mentoring to the company
Access to a talent pool through our partner network & in-house
A secure, operational environment
Access to mentors on a needed basis who are part of our network
Assistance with regard to finance, accounting, taxation, & etc.
Makers Lab access (IOT & Electronics, Mechanical & Carpentry and 3D Printing) An initiative of Sandbox Startups, Makers Lab, a workshop space for experimentation, fabrication and prototyping, in Huballi, is the first facility of its kind in North Karnataka.
For more info please visit our website at www.sandboxstartups.org