KLS IMER FEST SAMAGAM 2017 CONCLUDES IN A UNIQUE WAY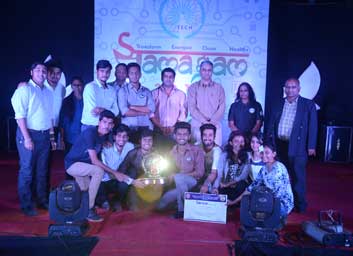 KLS IMER recently organized an innovative management fest for undergraduate students on March 17th and 18th. 27 colleges from Karnataka participated in this event. The theme was TECH INDIA (Transform Energize Clean Healthy). The first year MBA students organized the event. Dr. Kirti Shivaumar, professor and head, students events organized Samagam 2017 with the support of Dr. Purushottam Bung.
The event had many interesting competition Samarasya (Ice breaker), Sampoorna (Best Manager), Samayojana (Team Building), Samagyan (Quiz), samrujana (creativity), Samajyojana (CSR), Samrgayati(Treasure Hunt), Sananvaya (flagship round), Samarthya (cultural extravaganza), Samuha (the mannequin challenge), Samachitra (Photography).
Every year we try to support an NGO by promoting their cause and raising funds for them through this event. This year we have partnered with EKAL ABHIYAN and LEAD organization. A total of Rupees 36,261 which was collected during the fund raising event and was handed over during the valedictory. The Best Manager round was sponsored by Metro pickles.
Ms. Bhakti Sharma, swimmer of International repute and became the youngest to swim in all five ocean was the Chief guest, for the inaugural function and declared Samagam 2017 open. Shri. Rajendra Belgaumkar, Chairman, KLS IMER, Belagavi presided over the function.
Mr. Rahul Jadhav, Metro Pickles was the Chief Guest for the valedictory function, while Shri. Praveen Pujar was the Guest of Honor. Shri. Rajendra Belgaumkar, Chairman, KLS IMER, Belagavi presided over the function.
KLE CBALC, Belagavi, won the General Championship and R. L. Law College was the runners up. Mr. Sohail Karwar won the Best manager Round and Ms. Nabila Beerwala won the second place.