One day Workshop on People Management Skills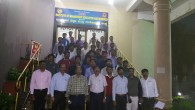 IMER and Dalmia Bharat Cement jointly conducted a one day workshop on People Management Skills, called ARIVU - the urge to know and grow. The workshop was conducted on 26/12/2015 in IMER and was coordinated by Dr. Kirti Shivakumar, Professor and M.S. Krishna, General Manager (HR). 30 HR Managers and Executives from various companies in and around Belagavi like Dalmia Cement, JSW Cement, UNI VTL Precision Ltd., and BRDS MSW students took the benefit of the interactive one day workshop. Mr. Sridhar, Dr. Purushotham Bung, and Dr.Kirti were the resource persons for this workshop. Mr. Anil Mishra from Dalmia Cements inaugurated the workshop.
Mr. Shridhar gave lectures on Communication and Team Building. Dr. Bung and Dr. Kirti used management games to train the participants in decision making and leadership. The workshop was very well received. Based on the feedback received for this workshop, Dr. Bung and Dr. Kirti, have been invited to conduct many more similar programmes for these companies.