Knowledge Series Session at KLS IMER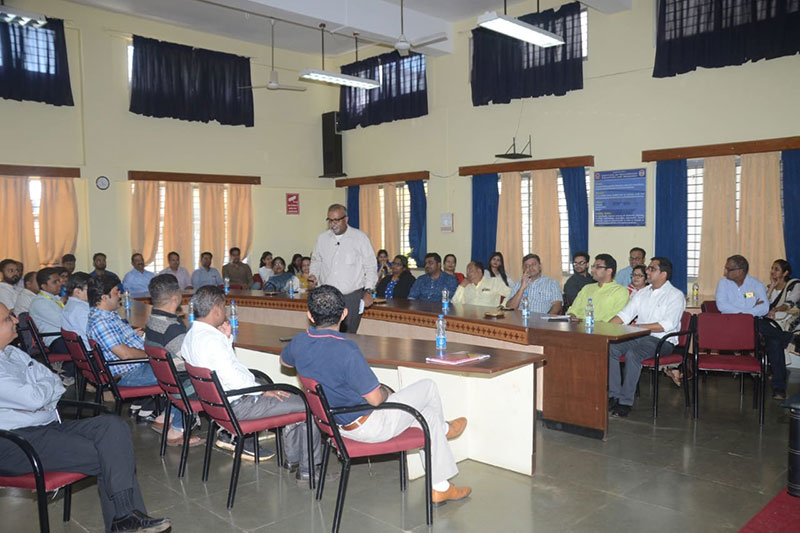 KLS IMER, Belagavi in association with The Indus Entrepreneurs (TiE) Hubli and Sandbox Startups had organize a Knowledge Series Session on - "The Future of work - What it means to our jobs and how we build talents - 3 perspectives" by Mr. Shivakumar Venkateswaran, Chief Human Resource Officer, IIM Bangalore on 4th Nov., 2018 at KLS IMER.
Mr. Shivakumar Venkateswaran, has about 25+ years of corporate experience in diverse sectors like Engineering, Textiles/Apparel/Brands & Retail, Education and Consulting. Since April 2012 Mr. Shivakumar is the Chief Human Resource Officer of IIM Bangalore. He provides professional leadership and strategic direction across the spectrum of core Human Resource areas which includes leading the review, formulation and implementation of progressive HR Policies, practices, initiatives and processes to support the Institute's mission and goals and meet its Vision and Objectives
Mr. Shivakumar spoke about importance of hiring the right type of people and people's expectations from jobs in future. He said that there are four types of people in every organization.
Thinkers - These people are the idea generators, strategists and creative types
Builders - They take ideas from the Thinker and convert them into reality.
Improvers - These are the people who take an existing project, process or team, organize it and make it better.
Producers - There are the people who execute a repeatable process, ensuring quality and delivery. They touch the customer every day in some way.
He said better hiring and career decisions occur only when we connect these four work types with corporate life cycle.
The interaction was followed by Q&A session where in the audience comprising of local entrepreneurs, business fraternity, HR Executives, professionals, academicians and students (70 plus people) attend the session. Mr. Sachin Kulgod welcomed the gathering, Mr. Chetan Pai introduced the guest and Mr. Raghav Motha proposed the vote of thanks.