KLS IMER Conducted IT Literacy Camp in Rural Areas of Khanapur, Belgaum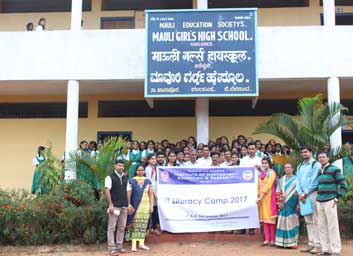 KLS IMER conducted an IT Literacy Camp for two days on 5th and 6th Dec. 2017 to educate rural students of Government Schools about usage of Computers and Basic Computer Skills as a part of Institute's Social Responsibility. IT team with 16 students visited rural places like Bargaun, Garlgunjji, Nandihalli, Asoga covering six schools in Khanapur Taluka and interacted with the rural students and staff and trained them on basic applications of computers. Around 500 students with 15 staff were benefited by this Event.
The objective of this activity was to educate rural students of Government schools about basic applications like MS - Word, WordPad, Paint, Calculator and Internet browsing etc.
IT Team of KLS IMER lead by Prof. Deepa Saibannavar coordinated the entire activity.