KLS IMER celebrated its 30th Foundation day on 16th Sept. 2020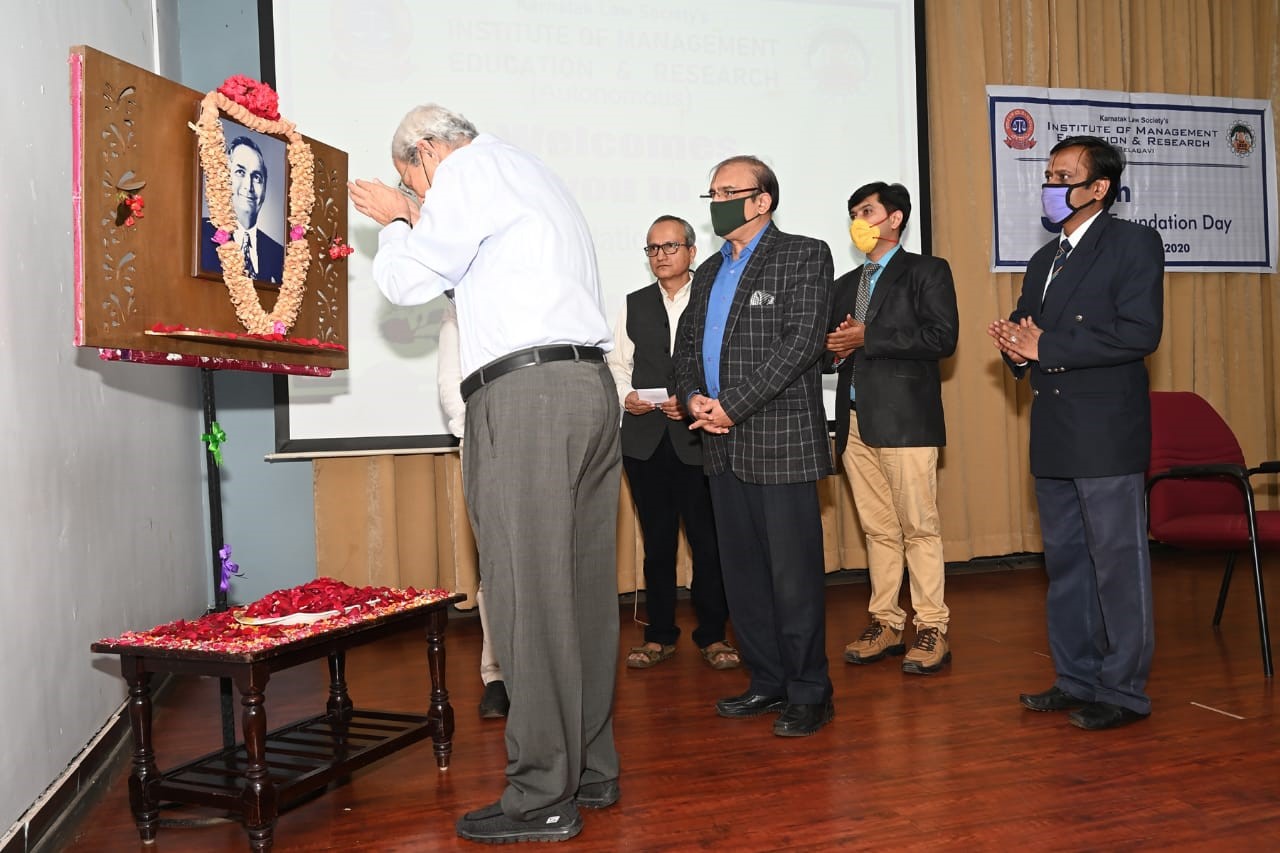 KLS IMER celebrated 30th foundation day, a flagship event, on 16th Sept. 2020, which coincides with the Birth Anniversary of Late Shri. RaosahebGogte, the patron of Karnatak law Society. Shri. ArvindGogte, Director, Gogte Infrastructure Corporation Ltd., and Shri. Sudheendra V. Ganachari, Member, GC, KLS IMER were the Guests on the occasion.
Shri. ArvindGogte and the dignitaries offered floral tributes to Late Shri. RaosahebGogte on this occasion. A video about the foundation day was presented by Prof. Sanjay Deshpande.
Mr. ArvindGogte in his address to the audience expressed his gratitude to KLS IMER for commemorating his father Late Shri. RaosahebGogte's birthday as the founder's day of the Institute. He appreciated the progress made by the Institute over the past 30 years and wished IMER a great future.
Shri. S. V. Ganachari, Member, GC, KLS IMER in his address narrated the significance of Foundation Day for KLS IMER and recognized the contributions made by Late Shri. RaosahebGogte and his family and congratulated the Institute on gaining autonomy.
A newsletter of KLS IMER Advisory Cell 'CSR TIMES' was released by the dignitaries on the occasion.
Dr.Atul Deshpande, Director, KLS IMER, welcomed the gathering and narrated the journey of KLS IMER. Prof.ShreekantNaik, proposed the vote of thanks. The Event was coordinated by Prof. S. G. Chiniwar, Prof.ShreekantNaik and Prof. Sanjay Deshpande.
The function, though a flagship event of the Institute, was celebrated on a very low key in view of the prevailing Covid situation. Around 40 guests and staff of the Institute were present on the occasion. All Covid norms as specified by the Government were adhered to during the function.