Family Business Program at KLS IMER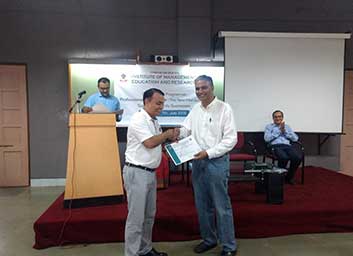 Family businesses have some issues unique to their nature. These include employing people of higher competency levels, professionalizing the organization, managing participation from members of different generations. In keeping with the unique needs of a family managed business, KLS IMER has organized a Certification programme on family businesses on 5th, 6th and 7th July 2018. The ultimate objective was to bring about a peaceful change in family managed businesses, and make them more competitive in a world that is uncertain and volatile.
The resource persons were Dr. Mita Dixit, Mr. Shivkumar Mani, renowned family business advisors and faculty members of S P Jain Institute of Management & Research (SPJIMER), Mumbai and Dr. Poornima M Charantimath, Professor KLS IMER, Belagavi. The inputs were given in the area such as: understand the dynamics and key challenges of family business, identify the roles, responsibilities & accountability of working family members, familiarize with techniques of professionalizing family business, develop leadership strategies for improving the performance of family business and appreciate the nuances of succession planning in family business.
The program was attended by family members from family businesses of multiple generations, faculty members teaching entrepreneurship, research scholars and business consultants. Mr. Rajendra Belgaumkar, Chairman, Governing Council KLS IMER and Dr. S G Chiniwar, Director, KLS IMER distributed the certificates to the participants.