KLS IMER, Belagavi bags the 'CSR Top Institutes of India Award'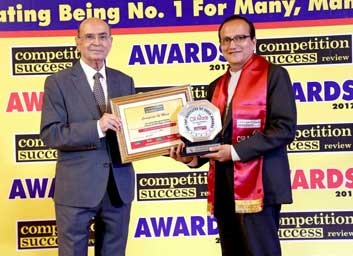 Competition Success Review (CSR) in partnership with the Global Human Resource Development Centre (GHRDC) rank B Schools in India through a professional (CSR-GHRDC) survey on a pan India basis. The 'CSR-GHRDC B - School Survey 2016' was carried out with the prime purpose of evaluating the overall performance of management institutes to reveal vital and detailed information for the advantage of all the concerned stakeholders. The primary focus of the current survey was on the efforts of B - Schools to teach and foster creativity and innovation in their students. Further based on the findings of the survey they have ranked all the Indian institutions on various parameters. The results of the survey have been published in the November 2016 issue (Vol. LIII No. 5) of Competition Success Review.
It is in this regard that KLS IMER, Belagavi has been conferred the "CSR Top Institutes of India Award" for the year 2017 for excellence in education by Competition Success Review. The award was presented by Shri. S. K. Sachdeva, Chairman & Editor of CSR on 2nd April, 2017 at Hotel Le Meridien, New Delhi.