BSE award received by KLS IMER student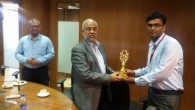 Mr. Sagar Thorushe of MBA 3rd Semester was presented an award by Bombay Stock Exchange on 23rd March 2016 for topping the online simulation exercise, hosted by imoneyplant of Dyota Solutions Pvt. Ltd. The online exercise was conducted as a part of financial literacy enhancement exercise for the students of MBA and subsequently he was declared as the winner. Only 3 students were felicitated from Belagavi and Mr. Sagar was one such student from KLS IMER. Students then visited National Institute of Securities Market, the Institute established by SEBI, the capital market regulator. The students had an opportunity to interact and discuss with Director of the Institute Mr. Sandeep Ghose. Mr. Ghose provided lots of useful information and how to succeed in 21st Century. After that the trophies were awarded by Mr. Ghose of NISM to all the winning students.
KLS IMER has also been recognized as the pioneer institute and one of its kind in the whole country in the establishment of a Community Financial Wellness Center (CFWC) at its institute. The CWFC is a part of the Corporate Social Responsibility initiatives undertaken by IMER in association with Dyota Solutions Pvt. Ltd.