KLS IMER students visited Biocon, Bangalore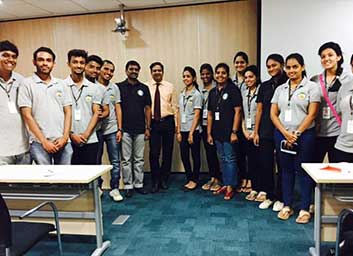 Students of KLS IMER with HR Specialization visited Biocon, Bengaluru.
Mr. Shenil Varghese Pudussery, Global Head - HR (Branded Formulation) addressed the students on HR organization and overall HR practices of Biocon. He gave practical insights on how to become successful HR professional in industry. Mr. K. S Srinivas, Senior Director (Learning & Development) explained the process of Learning and Development at Biocon starting from BioStart to BioLead interventions. He also spoke on Organization Development interventions at his esteemed organizations. Mr. Andanswamy Hiremath, Training Manager, spoke on how new team of sales managers are inducted and briefed about sales training and assessment.
The students learnt about various aspects of HR at reputed Indian Global company, Biocon, which otherwise is rarely found in books. Faculty members Mr. Shreekant Naik and Mrs. Shailaja G. Hiremath organized the visit, which was of great learning experience to HR students.