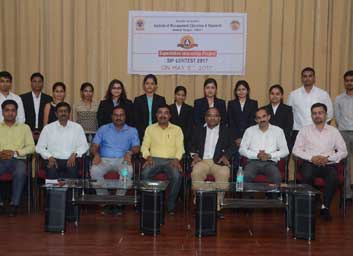 KLS IMER had organized Superlative Internship Project - 2017 a flagship event of the institute for final year MBA students who have completed their internship projects. We invited final semester MBA students from pan Karnataka to participate in the event.
The main objective of this contest was to encourage students to showcase the real life internship projects which they have undertaken.
Our Senior Alumni Mr. Gurudev Dindur - Branch Manager Fullerton India, Vijayapur, Mr.Prabhudev Desai Channel Manager, Schnider Electrics, Mr.Santosh Hargole, CEO NicheTree Consultancy, Belagavi & Mr. Raghavendra Sattigeri, Marketing Head, ThoughtFlow Education Conslutancy, Belagavi were the jury for the contest. Dr. Purushottam Bung, Director KLS IMER welcomed the participants. Students from various management institutions presented their internship projects to the jury.
Shri. Rajendra Belgaumkar, Chairman, GC, IMER was the President for the Inaugural Ceremony. Feedback by jury and participants was taken. Jury analyzed projects on various parameters like uniqueness of the project, solving the problem, company, internship rigor, tools and techniques applied, job offers in respective companies, overall presentation of the project, usefulness and soundness of research design.
Cash prize of Rs 5,000/- , Rs 3,000/- and Rs 2000/- along with Award Certificate was given to the top three Projects. All participants received participation certificates.
Winners of the Contest were:
1st prize : Ms.Zeba Ladiwala from GIT MBA
2nd prize : Ms. Ketaki Khemalapure from KLS IMER
3rd prize : Ms. Laxmi Badaskar & Ms.Pooja Pai from KLS IMER
MOC was done by Ms. Priyanka and Mr. Vaibhav. This Contest was organized by Coordinators Prof. Shreekant Naik & Prof. Ameet Kulkarni of KLS IMER.