Workshop on fundamentals of financial markets and life of a trade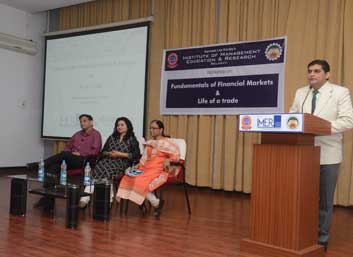 A One day workshop on "Fundamentals of Financial markets and Life of a trade" was conducted at KLS IMER , Hindwadi, Belagavi on 21st January 2017. Mr. Ranjeet Ranade, Founder of ETC partners, Bengaluru and Ms. Kavita Kulkarni were invited as resource people. Students and Faculty of various MBA and Degree colleges from Belagavi attended the workshop.
Mr. Ranjeet Ranade has over twenty five years of international industry experience in financial services, organizational leadership, and project management. He also brings academic rigor in engineering from BITS Pilani and IIT Bombay as well as in Finance & Economics from New York University. In his session, he elaborated on the basics of fundamental markets, types of financial markets and key products. He also introduced the participants to the analysis of real time online data related to financial markets available on internet and decision making criteria based on the same.
Ms. Kavita Kulkarni is a seasoned financial services and hedge fund professional. She has over two decades of experience in working with global investment banks. In her sessions, she provided an overview of commercial banking and key players of financial markets. She elaborated on the technicalities and operations of Mutual funds, Hedge funds and Pension funds.
The resource people also spoke about the various career options open to management students in the finance industry. Prof. Rahul Mailcontractor and Prof. Sonal Revankar of IMER coordinated the workshop.