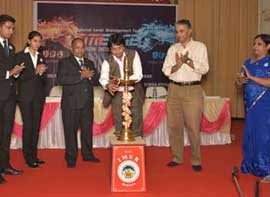 IMERGE is the management festival for B-Schools. The Fest is planned, organised and designed by our students. It gives our students and participants an opportunity to apply their conceptual knowledge into action through events which focus on creativity, team work & interpersonal skills.
IMERGE - 2015: The theme for IMERGE - 2015 was "EMERGING INDIA". It was held on 6th and 7th April 2015.
The function began with the invocation song by Ms. Anita, student of MBA 2nd Semester. Dr. Kirti Shivkumar, Co-ordinator, welcomed the gathering. Mr. Ritesh Patil, student co-ordinator briefed the audience about IMERGE - 2015. Shri. Shashikant Sidnal, MD, Vijaykant Food, Belagavi was the Chief Guest and Shri. Rajendra K. Belgaumkar, Chairman, KLS IMER, Belagavi presided over the function.
Speaking on the occasion, Mr. Sidnal spoke about the qualities required for a person to succeed as an entrepreneur. Self-Discipline, Time Management, Vision and desire to grow big are the key factors to a person's success. He advised the students to chase success and not wealth, since in the pursuit of wealth, people destroy their health.
In his Presidential remarks, Shri. Rajendra Belgaumkar, said that events like these give students the opportunity to network, and compete, by moving out of their comfort zone. He said whether one chooses to work in the corporate field or become an entrepreneur, one must think like an entrepreneur, because that is what emerging India needs.
Fifteen B-Schools from Bangalore, Bijapur, Bagalkot, Davangere, Hubballi - Dharwad, and Belagavi participated in IMERGE - 2015.