One Day FDP on Teaching-Learning-Evaluation Excellence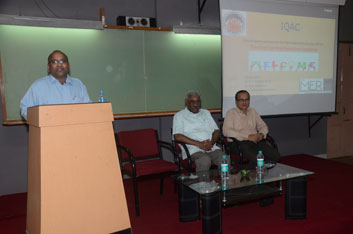 IQAC(Internal Quality Assurance Cell) of KLS IMER organized one day FDP on Teaching-Learning-Evaluation Excellence on 22nd Sept. 2017.
Prof. L. S. Ganesh, Professor, Dept. of Management Studies, IIT, Chennai and Prof. Purushottam Bung, Professor and IQAC coordinator, KLS IMER were the resource people.
Resource people deliberated on the importance of big three processes that decide quality in Higher Education, i.e. Teaching, Learning & Evaluation and how to excel in these three big processes.
Around 50 faculty, representing various Higher Education Institutions across Karnataka and Goa participated in the FDP.
FDP was inaugurated by Dr. S. G. Chiniwar, Director, KLS IMER and was coordinated by Prof. Purushottam Bung, Dr. Kirti Shivakumar & Prof. Rahul Mailcontractor. Dr. Kirti presented about functioning of IQAC at KLS IMER.
All the participants gave the feedback to organize follow on FDP on "Different teaching pedagogies that a teacher can use" to strengthen quality in higher education.