TiE talk by Mr. Manoj Ambike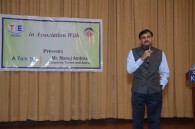 Mr. Manoj Ambike, Corporate Trainer and Author from Pune, delivered a talk on "Two hours a day to manage your business" on Wednesday, 13th April 2016.
Mr. Manoj Ambike during his talk impressed upon Entrepreneurs, Consultants, Practitioners, Business Executives and Academicians of Belagavi to focus on key persons, key factors, key positions and key products to manage the business effectively and to develop key performance indicators (KPIs) and key result areas (KRAs), so that the owners/CEOs/MDs/Top level executives can monitor the entire business easily with minimum effort without spending much time. He spoke about 80 – 20 principle which is applicable across all businesses which says that 80% of the revenue is fetched from 20% of the clients and 80% of the work is done by 20% of the employees and so on and gave an advice to focus on this important 20%. He also highlighted that focus, clarity and good reporting system at workplace will reduce the difficulties of the Entrepreneurs/CEOs/Top level executives and provide them more free time which they can devote for betterment/growth of the organization. The session was interactive with participants raising a number of queries that were answered by Mr. Ambike.
More than 150 participants attended the talk including members of TiE-Hubli, Entrepreneurs, Practitioners, Consultants, Academicians and business persons of Belagavi.
Mr. Ambike, is a Corporate Trainer for the MNC's like Mahindra, L & T, and ISMT etc. He has specially designed workshop – 'Take Flight' for entrepreneurs. Mr. Manoj Ambike is well known writer. All his books have been appreciated by readers and many of them have more than 5 editions. The 15th edition of his book on 'Parenting' has been published within a span of just 3 years.