TiE-Hubli, in association with KLS IMER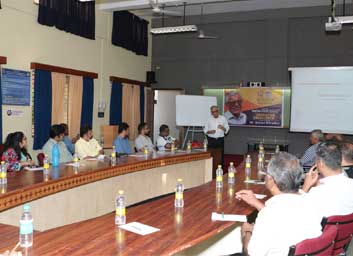 TiE-Hubli, in association with KLS IMER, Belagavi, had arranged on Sunday, 18/June/2017, a three hour workshop on Operation Excellence by eminent Mumbai based Management Consultant, Mr. Boman Moradian. Mr. Moradian, a guest faculty at Bajaj Management School, and SP Jain institute, and an independent Director at Essel Propack Ltd, spoke about a laser like focus needed on return on capital employed in any business. He provided a road map to indentifying and classifying key areas of customer concern and customer decision making and the related reporting mechanisms needed to measure, analyse and act upon. The Workshop was attended by 40 members including industrialists, retailers, and academicians.
Mr. Venkatesh Patil, industrialist and TiE Hubli GB member welcomed the gathering. Mr. Rajendra Belgaumkar, Chairman, KLS IMER GC, presented a memento to Mr. Moradian and thanked him for sparing time for Belagavi members. Dr. Shashikant Kulgod, Co-Convenor for TiE Hubli in Belagavi, proposed the vote of thanks. Dr. Arif Shaikh, Faculty, KLS IMER, coordinated the event.