A Talk/Interaction on "Influencing and Negotiation Skills" by Mr. T Chendil Kumar held at KLS IMER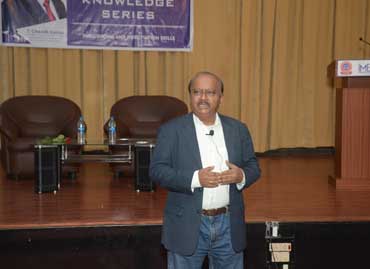 The Indus Entrepreneurs (TiE) Hubli in association with KLS - IMER, Belagavi is organized an interactive session on "Influencing and Negotiation Skills" by Mr. T Chendil Kumar, a well known corporate trainer, passionate speaker and aspiring humorist, as a part of knowledge series recently at KLS IMER Auditorium, Hindwadi, Belagavi.
Mr. T Chendil Kumar is the Chief Catalyst of CK Consultants and consults with many FORTUNE 500 companies across the world and also engages in personal coaching for senior managers on leadership. He is an acclaimed Toastmaster and a much sought after speaker in the TEDx circuit for his ability to use humor in business presentations and he is a visiting faculty at prestigious institutes across the globe.
Mr. Chendil Kumar spoke about importance of developing, influencing and negotiating skills from the businessmen's point of view. He illustrated with examples the nuances of influencing and negotiation strategies and asked the people from the industry to practice them in day-to-day business life.
He said adequate preparation before entering negotiation, setting the right climate for negotiation, focusing on interest than the position, choosing the right style of negotiation (collaborative/competitive/compromise/accommodation/avoidance), managing the deviations in the processes involved and closing the loop completely will ensure the desired output while negotiating.
The interaction was followed by Q&A session where in the audience comprising of TiE members, business community of Belagavi, Startups, academicians and students (150 plus people) clarified their doubts.
Dr. Bung welcomed the gathering, introduced the speaker and moderated the session and Mr. Venkatesh Patil, GB member of TiE extended floral welcome. Dr. Shashikant Kulgod, convenor TiE, Belagavi proposed the vote of thanks. Programme was coordinated by Dr. S .G. Chiniwar and Dr. Arif Shaikh.