III Session by Mr. Naga Prasad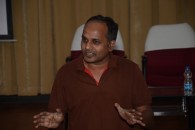 IMER organized session by Mr. Naga Prasad, Motivator from Hyderabad on 26th April 2016 at 12.30 p.m. in auditorium for students and staff under Industry Interaction Series.
His session was full of motivational stories of people like Beethoven, Jyothy Reddy, Hellen Keller, Sarathbabu and many more, who challenged their human potential to become successful irrespective of hurdles in life. The theme of his motivational speech was "Face Troubles and Triumphs with same intent... Do well always and by all means".
Mr. Naga Prasad narrated his own story about how he overcame his struggle with life's unfortunate events to become motivator himself and a man with various records and author of a book "A tale of two nations". He also went on to start a firm namely Yuvaraj Motivators Pvt. Ltd, in Hyderabad.
He said any student can make his or her dream come true by overcoming mental barriers to achieve, than concentrating on problems around. Mr. Naga said setting the right goal is very important and one should not postpone the actions to achieve the goals in time. His advice to the students was to respect their parents and law of the land.