SAMAGAM - 2016 concludes in a unique way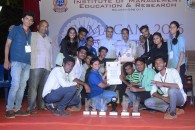 KLS IMER had organized an innovative management fest for undergraduate students on March 18th and 19th. Twenty colleges from Karnataka and Goa had participated in this event. The theme was Start up India, Skill Up India. MBA first year students organized the event.
The event had many interesting competitions called Sampoorna (Best Entrepreneur), Samaarambh (Ice Breaker), Samskruthi (Cultural Programme), Samaajayojana (Social Responsibility), Samshodh (Treasure Hunt), and Samaachar (Press Meet).
Every year we try to support an NGO by promoting their cause and raising funds for them through this event. This year we had partnered with Rajyalakshmi Childrens Foundation and well-known social worker Shri Shivaji Kaganikar. A total of Rs. 38000/- which was collected during the fundraising and the Best Manager (Marketing round) was handed over to Rajyalakshmi Childrens Foundation and Shri. Shivaji Kaganikar during the valedictory.
Shri. Naveen Jha, CEO, Deshpande Foundation was the Chief Guest, for the inaugural function and declared Samagam 2016 open. Shri. Rajendra Belgaumkar, Chairman, GC, KLS IMER presided over the function.
Dr. Shashikanth Kulgod was the Chief Guest for the Valedictory function, while Shri. Shivaji Kaganikar was the Guest of Honour. Shri. Rajendra Belgaumkar, Chairman, GC, KLS IMER, Belagavi presided over the function.
KLE CBALC won the general championship and Gogte College of Commerce was the runners up.