KLS IMER to implement Outcome Based Education platform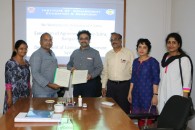 Institute has signed an agreement with e-Sutra Chronicles Pvt. Ltd. on 13/01/2016 for deployment of Outcome based education platform 'Contineo', Shri. Rajendra Belgaumkar, Chairman, GC, KLS IMER and Mr. Sudhindra Mokhasi, CEO, e-Sutra Chronicles executed the agreement. Director Dr. Purushottam Bung briefed about the importance of deploying Campus Management System.
With the deployment of Campus Management System, 'Contineo', India's first and most comprehensive outcome based education platform, KLS IMER will assess the student outcomes and adapt the teaching learning process for enhanced employability.
In addition, this system will also address all core institutional administrative activities from admission, fees, Academic Feedback, Communication with parents, Alumni relations, Attendance, Students, Assignments, Internal Assessment will be computerized and communication with all stakeholders will be made seamless and real time.
We have deployed the system w.e.f. 01/03/2016