Celebration of "National Youth Day" at IMER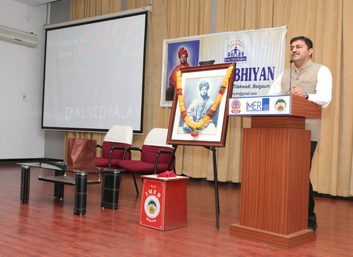 KLS IMER, Belagavi celebrated "National Youth Day" on the occasion of 154th Birth anniversary of Swami Vivekananda in association with Ekal Abhiyaan, Belagavi. Mr. Sangram Kulkarni, Vice President, Ekal Abhiyaan, Belagavi addressed the students and faculty members of IMER on this occasion. He highlighted the contribution of Swami Vivekananda to uphold India on the world stage through his great speech on Hinduism at the Parliament of the World's Religions in Chicago. He further said everyone must feel proud to be an Indian. Youth play an important role in accomplishing the National Aim of "India First and Make in India", set by our Prime Minister Mr. Narendra Modi. So, it is important to follow 3 P's, Purity, Patience and Perseverance, propagated by of Swami Vivekananda to build the strong character of Youth.
Mr. Sangram Kulkarni also briefed the legacy of Ekal Vidyalaya – A people Movement and said Ekal Abhiyaan is doing the yeoman service to uplift the rural and tribal India by providing basic education to children and self - employment to youth. They called upon students to take up the social responsibility in whichever possible way to build India that they dream.
Dr. Poornima M. Charantimath, Director (I/C) KLS IMER welcomes the gathering. Mrs. Shailaja G. Hiremath, Coordinator, Centre for Ethics & Social Responsibility, IMER coordinated the session. Prominent members of Ekal Abhiyaan, Belagavi were also present in the session.