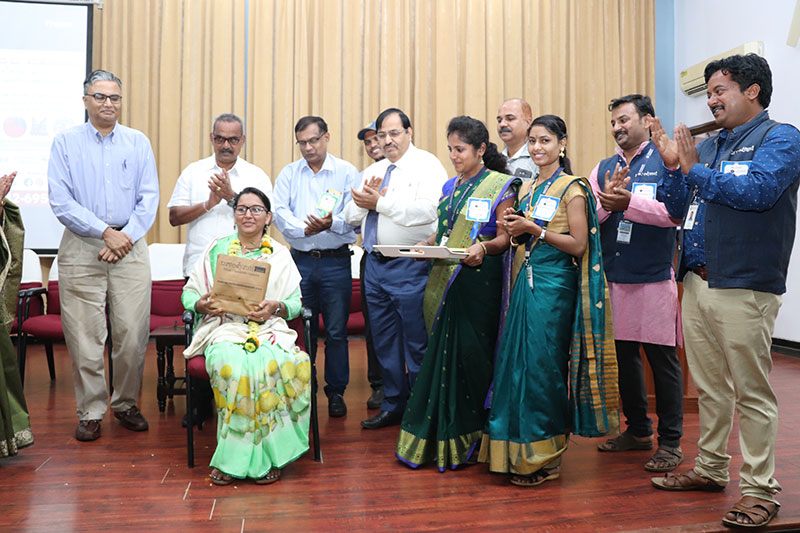 Deshpande Foundation's Navodyami program presented Navodyami Mahotsava 2018 at KLS IMER.. It was done in collaboration with Canara Bank's Regional Head Office, KLS IMER College, and Subhash Photo Studio Belagavi. The 'Belagavi Navodyami Mahotsava 2018' was organised at KLS IMER on 7th Dec. 2018 between 10.00 am to 5.00 pm at KLS IMER, Adarsh Nagar, Hidwadi, Belagavi. Canara Bank DGM Mr. Krishna Kulkarni, KLS IMER Chairman Mr. Rajendra Belagaumker, Parspara Co-founder Amith Kalkundri, Subash Photo studio's owner Mrs. Swati, Karnataka state Secretary of Laghu Udyog Bharati, Mrs. Veena Joshi, Charted Accountant Mr. Sanjeev, Navodyami Deputy Director Mr. Iranna Rotte, Belagavi in charge person Mr. Veerayya Hiremath, Paramesh Gaded, Rakesh Kaveri and 200+ Namodyami's more successful entrepreneurs/mentors were participated in this event.
About Mahotsava:
It is an event where people from different disciplines can participate to have more insights in the field of Textiles, Handicrafts, Finance, Micro-entrepreneurship and avail business development solutions to pitch for a faster growth in the larger market.
Special guest Mrs. Safala Nagaratna delivered her life story. It was impressed and motivated to women entrepreneurs. She is the role model for many lives who depressed in their life.