KLS IMER begins its Silver Jubilee celebrations with the YOGA LOGIK concert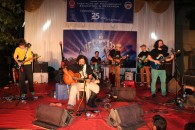 Institute hosted the Yoga Logik Music band on 14th Feb. 2016 at its campus. Yoga Logik is an Austrian/Indian music band that melts Indian classical and folk with western contemporary music into their unique style. Most lyrics are based on poems by Sufi saints like Sant Kabir and Amir Khusro. The band features Vineet Alurkar, Bhupal Limaye (from India), Wolfgang Sambs, Sebastian Weiss, Martin Berauer, Michael Liebetseder (all from Austria).
The Yoga Logik concert was an uncommon combination of great musicianship, a dose of rock'n'roll, spirituality and a lot of fun.There was no entrance fee. Shri Rajendra Belgaumkar, Chairman, GC, KLS IMER, inaugurated the concert. On this occasion he announced the commencement of the silver jubilee celebrations of the institute.
On 15th morning, the YOGALOGIK band conducted a half day workshop at the institute. The Yoga Logik Music workshop was open to music lovers and performers. 25 enthusiastic participants attended the workshop and were greatly benefited and inspired with the interaction they had with the Yoga Logik band.