KLS IMER promoted cashless economy in Rural Areas of Belagavi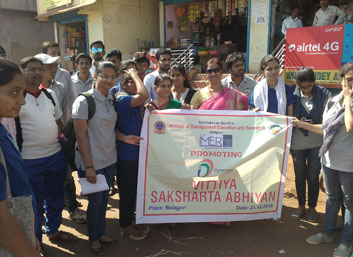 KLS IMER conducted an extension activity to promote digital economy/cashless economy as a part of Vittiya Saksharata Abhiyan of Ministry of Human Resource Development, Government of India. IT team with 35 students visited rural places like Honga, Hattargi and Yamkanmardi. Students and staff interacted with local retailers, general public, farmers and auto drivers.
The objective of this activity was to educate rural people on usage of SMS Banking, e - wallets, internet banking, using credit/debit/prepaid cards, using RuPay where there is POS and USSD where there is no POS for their business.
They also educated the rural public on security concerns and informed them not to disclose their confidential banking credentials like ATM Pin, OTP to anybody and be aware of fraud SMS.
IMER is also going to have a close follow up in coming days with those retailers, general public, farmers and auto drivers by conducting a camp in Government schools in those rural areas and educate school teachers and local public.
IT Team of KLS IMER lead by Prof. Deepa Saibannavar coordinated the entire activity.