MEMORANDUM OF understanding between KLS IMER and Avishkaar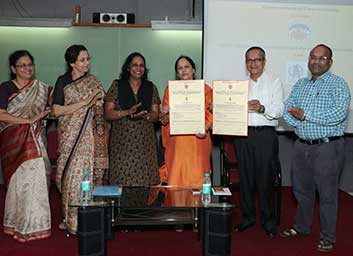 A Memorandum of Understanding was signed between KLS' Institute of Management Education and Research, Belagavi and prominent women's organization Avishkaar on 03/06/2017.
The general objective of this Memorandum of Understanding (MOU) is to stimulate and facilitate the development of collaborative and mutually beneficial programs which serve to enhance the intellectual life, social sensitization and cultural development of both organizations.
KLS IMER has extended the use of the Academic Resources, Infrastructure Facilities, Library Resources to Avishkaar and will also collaborate with the NGO to conduct Events/Programmes KLS IMER will assist AVISHKAAR to promote AVISHKAAR and AVISHKAAR UTSAV as a brand of repute and provide training to local woman entrepreneurs to develop their business.
This memorandum of understanding signed on 03/06/2017 between the Director, KLS IMER and President of Avishkaar. Dr. Kirti Shivakumar facilitated the signing of this MOU. On this occasion DR. S.G. Chiniwar, Director, KLS IMER, Dr. Kirti Shivkumar, Dr. Purushotham Bung, Mrs. Manisha Badani President of Avishakaar, Mrs. Rohini Gogte, Ms. Himangi Prabhu and other members of KLS IMER and Avishkaar were present.