KLS IMER Conducts Antaraprerana - 2017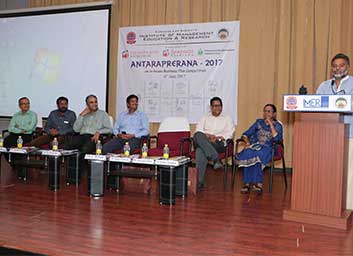 Antaraprerana is a flagship annual Business Plan competition of the KLS Institute of Management Education and Research, Belagavi since last ten years. The event was organized on 6th June 2017 by KLS IMER in association with EDII, Ahmedabad and Sand Box Start-ups of Deshpande Foundation. The objective of this event was to promote entrepreneurial spirit among the student community by encouraging students to prepare business plan, which they can realize in coming future, by considering all aspects involved in creating a new business or rebuilding the existing one. The competition comprises of three rounds: Pitching; Presentation of Business Plan; Prototype presentation.
The event was inaugurated by Mr. Nagaraj Prakasam, Mentor India Angel Network, who was the chief guest. The chief guest in his inaugural address called the students to identify the problems in the society and look them as business opportunities and find innovative solutions with entrepreneurial mind set. He also asked the students to prepare original business plan to bring the socio-economic transformation to realize the Make in India dreams of our honourable Prime Minister Narendra Modi. Mr. C. M. Patil, Chief executive, Sandbox startups of Deshpande foundation was the guest of honour. In his address Mr. C. M. Patil asked the students to prepare feasible business plans which can be implemented with the support of the incubation centre set up at the institute by Deshpande foundation. He also said KLS IMER is one of the few business schools, which has the incubation centre to make the ideas into reality. Mr. Rajendra Belgaumkar, Chairman, Governing Council, KLS IMER, presided over the function. In his presidential address he called the students to develop entrepreneurial mindset which is the need of the hour.
Dr. S. G. Chiniwar, Director, KLS IMER welcomed the gathering. Dr. Poornima Charantimath, Professor and event coordinator spoke about the objectives and the modalities of the event. Ms. Pooja Pai, Student coordinator proposed the vote of thanks. Mr. Nagaraj Prakasam, Mr. C. M. Patil, Mr. Surendra Dixit from Oust lab and Mr. Yashaswi Nag, Project officer, EDII, were the Judges for the B-plan competition. The judges gave valuable feed back to the participants. Mr. Sanjay Deshpande introduced the guests, Ms. Sonal Revankar presented flowers and mementos to the guests, Ms. Sanmati Bidikar & Ms. Shraddha Suryawanshi were the master of Ceremony. Twelve teams participated in the competition.
Attractive cash prizes were given to the winners and all the participants were given participation certificates.