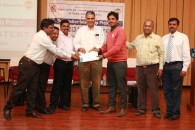 KLS IMER organized Superlative Internship Project – 2016 a flagship event of the institute on Saturday the 23rd April 2016 for final year MBA students who have completed their internship projects. Final semester MBA students from all over Karnataka participated in the event.
The main objective of this contest was to encourage students to showcase the real life internship projects which they have undertaken.
Our Senior Alumni Mr. Shivaling Sajjanar, Senior Manager, Strategic Sourcing IBM IT Services Pune, Mr. Anup Bapure, Financial Advisor and Entrepreneur Kalaburgi & Mr. Mrityunjay Channashetti, Entrepreneur and MD of Bhoomitaayi Fresh, Hubballi of 1998-2000 Batch were the jury for the contest. Dr. Purushottam Bung, Director KLS IMER welcomed the participants. Students from various management institutions presented their internship projects to the jury.
Sri. Naveen Jha CEO Deshpande Foundation Hubballi, was invited as the Chief Guest and Shri. Rajendra Belgaumkar, Chairman, Governing Council, KLS IMER was the President for the Valedictory Ceremony. Feedback by jury and participants was taken. Jury analyzed student's project on various parameters like Uniqueness of the project, solving the problem, company, internship rigor, tools and techniques applied, job offers in respective companies, overall presentation of the project, usefulness and soundness of research design.
Cash prize of Rs. 15,000/-, Rs. 10,000/- and Rs. 5,000/- along with Award Certificate was given to the top three Projects. All participants received participation certificates.
Winners of the Contest were:
1st prize : Mr. Muzammil Almel from KLS IMER
2nd prize : Mr. Abhishek Patil from KLS IMER
3rd prize : Ms. Sneha Yalavatti from GIT MBA
Vote of thanks was proposed by student Aishwarya Desai. This Contest was organized by coordinator Prof. Shreekant Naik of KLS IMER.