NAAC peer team visit to KLS IMER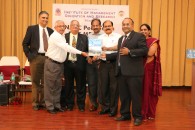 NAAC peer team composed of Dr. Vasant M. Chavan, Former Pro Chancellor, Shivaji University, Kolhapur (Chairman of the peer team); Dr. K. Rama Mohana Rao, Former Registrar, Andhra University, Vishakhapatanam (Member coordinator of the peer team); and Dr. Tharsis Joseph, Director, SISCM, Kochi (Member of the peer team) visited KLS IMER on 6th and 7th June, 2016 for NAAC Assessment and Accreditation.
They visited all the facilities (for the conduct of curricular, co-curricular and extracurricular activities) and support services (Hostel, Cafeteria, Gymnasium, Sports, Parking, Recreational, etc.) of the Institution; Interacted with all the stake holders (Students, Alumni, Parents, Staff and Management); the team inspected all the relevant records and gave valuable feedback and suggestions during the exit meeting.