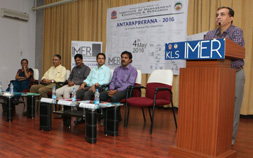 Antaraprerana is a flagship annual Business Plan competition of the institute. The objective of this event is to promote entrepreneurial spirit among the student community by encouraging students to prepare a business plan, which they can realize in the coming future, by considering all the aspects involved in creating a new business or rebuilding the existing one. The competition comprises of three rounds: Pitching; Presentation of Business Plan; Prototype presentation.
Antaraprerana - 2016 was inaugurated by Mr. Anand, Bank Manager, LEAD Bank, Belagavi District. Mr. Anand in his inaugural address briefed about the various government schemes available for startups for promoting entrepreneurship. He also asked the students to prepare original business plan to bring the socio – economic transformation to realize the Make in India dreams of our honorable Prime Minister Narendra Modi. In his presidential remarks Mr. Rajendra Belgaumkar asked the students to prepare feasible business plans which can be implemented with the support of the institute.
Dr. Poornima Charantimath, Professor and event co-ordinator spoke about the objectives and the modalities of the event. Ms. Sonal Revankar, proposed the vote of thanks. Mr. C. M. Patil, from Deshpande Foundation, Hubballi and Mr. Rajesh Muchandikar an Alumnus and an Entrepreneur from Belagavi and Mr. Yashswi Nag from EDI, Ahmedabad were the Judges for the B-plan Competition. Attractive cash prizes were given to the winners by the institute and all the participants were given participation certificates.