27th Foundation Day Celebration of the Institute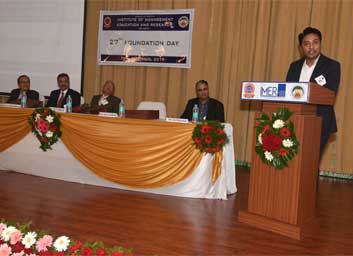 The 27th Foundation Day Ceremony of the Institute was celebrated on Saturday the 16th Sept. 2017 at 4.00 pm at KLS IMER. This event is one of the flagship event of our Institute, which is witnessed by eminent personalities across the industry, academia and students during which we identify a successful local entrepreneur and felicitate him/her in order to foster entrepreneurship in the region. The foundation day is celebrated on the birth anniversary of late Shri. Raosaheb B.M. Gogte, Patron of Karnatak Law Society commemorating his contributions to education sector in general and Karnatak Law Society in particular.
Shri. M.R.Kulkarni, Chairman, Karnatak Law Society, was the president of the function. Shri. Suhas Gopinath, Founder CEO, Globals Inc., Bangalore and awardee of Incredible Europe (Austria) and Karnataka State's Rajyotsava Award was the Chief Guest. Shri Suhas Gopinath was recognized as the world's youngest CEO by various media such as BBC, Limca books of records and Times of India. Shri. Rajendra Belgaumkar, Chairman, Governing Council, KLS IMER was the Guest of Honor. Dr. S.G. Chiniwar, Director, KLS IMER welcomed the Guests.
Shri. Mahesh Bhirangi, MD & CEO, Pragati Engineering Belagavi Pvt. Ltd., a successful local entrepreneur was felicitated on this special occasion. The video and print profile of Shri. Mahesh Bhirangi was prepared, and screened by our faculty.
Chief Guest Shri Suhas Gopinath shared his entrepreneurial journey. He started at an early age of 14, managed a cyber cafe and built websites for U.S. companies. He gave tips to management students of KLS IMER and urged them to Innovate, build ecosystem of entrepreneurs and create employment.
Responding to the felicitation Shri. Mahesh Bhirangi, MD & CEO, Pragati Engineering Belagavi, Pvt. Ltd. emphasized on value systems being the strongest foundation of any organization and urged the students to have right skill sets and inculcate ethical behavior.
Shri M.R.Kulkarni, Chairman Board of Management, Karnatak Law Society gave the presidential remarks. He acknowledged the speakers determination towards their businesses. The key to success of every business lies in determination, dedication and hard work.
Business leaders, entrepreneurs, industrialists, TiE members, Rotarians and academicians attended this flagship event aimed at "promoting and fostering Entrepreneurship through building required eco system and converting Belagavi into an entrepreneurial hub". Dr. Purushottam Bung, Professor, KLS IMER proposed vote of thanks.
Sound & Light show on 'From Venugram to Smart City' - The story of Belagavi was conducted immediately after the function.