KLS IMER celebrated 26th Foundation Day on 16th September 2016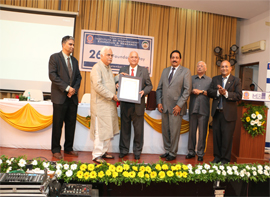 KLS IMER celebrated 26th Foundation Day, a flagship event, on 16th September 2016, which coincide with the 100th Birth Anniversary of Late Shri. Raosaheb Gogte, the patron of Karnatak Law Society.

Shri. R. V. Deshpande - Patron, Karnatak Law Society and the Minister for large and medium scale industries and Infrastructure Development, Government of Karnataka was the Chief Guest. Shri. Anant. N. Mandgi - President, Karnatak Law Society was the President of the ceremony. Shri. M. R. Kulkarni - Chairman, Board of Management, Karnatak Law Society, was the Guest of Honor.

Every year we identify a successful local entrepreneur from Belagavi, who has contributed significantly towards growth of the Belagavi, and honor him/her on this occasion. This year we honored Mr. Vijay Pusalkar - Founder and Chairman, Indo Schottle Auto Parts Private Limited, son of Late. Shri. Balakrishna Pusalkar - the founder of BEMCO.

The video profile of Mr. Vijay Pusalkar, highlighting his entrepreneurial journey, was presented to the audience comprising industrialists, entrepreneurs, academicians, members of management and students. Citation was read by Shri. Rajendra Belgaumkar, Chairman, Governing Council, KLS IMER. Dignitaries then felicitated Mr. Vijay Pusalkar.

Mr. Vijay Pusalkar in his address to the audience shared that having fire in the belly to achieve; having a focused mind; attitude of not giving up and remaining competitive throughout is the key to entrepreneurial success.

Shri. Arvind Gogte and Shri. Shirish Gogte along with other members of Gogte family and the dignitaries offered floral tributes to Late Shri. Raosaheb Gogte on this occasion and awarded Mr. Vishal Shetty, the topper of the Institution (2014 - 16 batch) with a scholarship of Rs. 15000/- by Gogte family.

Chief Guest Shri. R. V. Deshpande, Hon. Minister, lauded the achievements of IMER and Mr. Vijay Pusalkar advised the students' community of Belagavi to get inspired by the entrepreneurial journey of people like Mr. Vijay Pusalkar and follow their footsteps. He further said that today is the age of brains and brands and advised the students to become a brand in whatever they do. He invited Mr. Pusalkar to make more investments in Karnataka, Belagavi, in particular.

Shri. M. R. Kulkarni, the Guest of Honour, narrated the significance of Foundation Day for KLS IMER. Shri. Anant. N. Mandgi, in his presidential address congratulated Mr. Vijay Pusalkar for his entrepreneurial achievements and thanked Honorable Minister for gracing the occasion. He recalled the contributions made by the Institutions of KLS in transforming the students in to the brand ambassadors of Belagavi in various disciplines.

Dr. Purushottam Bung, Director of KLS IMER, welcomed the gathering and narrated the 25 years journey of KLS IMER. Prof. S. G. Chiniwar proposed vote of thanks. Event was coordinated by Prof. S. G. Chiniwar, Prof. Shreekant Naik, Prof. Sonal Revankar and students.