Workshop on "Negotiation Skills"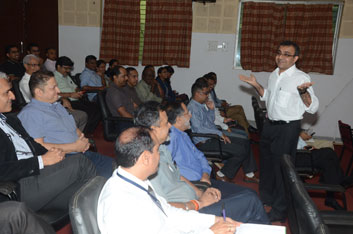 TiE-Hubli, in association with KLS IMER, Belagavi, had arranged a two hour workshop on "Negotiation Skills" on Monday, 18/September/2017, by Prof. Samish Dalal, Associate Professor at SP Jain School of Global Management, Mumbai. Mr. Dalal elaborated on the critical importance of effective negotiation. He explained the fundamentals of negotiation skills and discussed the process of negotiation both in the B2B and B2C environments through live examples from corporate as well as day-to-day activities. The Workshop was very interactive and was attended by 65 participants including industrialists, businessmen, academicians and students.
Shri. Rajendra Belgaumkar, Chairman, Governing Council, KLS IMER welcomed the gathering and Dr. Shashikant Kulgod, Co-Convenor for TiE Hubli in Belagavi, proposed the vote of thanks. Mr. Shrirang Deshpande, Faculty, KLS IMER, coordinated the event.