KLS IMER ALUMNI MEET - SAMHITA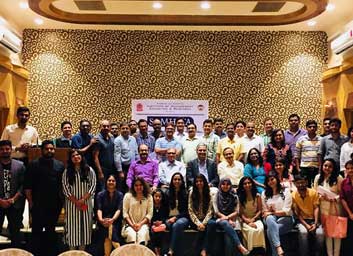 KLS IMER Alumni Association conducted the Alumni Meet SAMHITA at Bangalore . The meet was held at Pai Viceroy, Jayanagar, Bangalore. Alumni from various batches right from 1997 to 2016 attended the meet.
Dr. S.G.Chiniwar welcomed the gathering. Shri. Raj Belgaumkar, Chairman , GC addressed the alumni. Making a short presentation highlighting the developments and improvements at KLS IMER, he thanked the alumni for coming and invited ideas from them for the development of the alumni institute interaction. Mr. A. A. Kulkarni, GC member, IMER graced the occasion and expressed his happiness about the growth of the alumni of KLS IMER.
Senior alumni, Mr. Shridhar Bhat , Mr. B.O. Umesh , Ms. Sheetal Joshi , Mr. Manjunath Shingai , Mr. Sujay Iti, Ms. Sneha Walke and others addressed the meet. Mr. B.O. Umesh and Mr. Shridhar Bhat have taken up the initiative of setting up the Bangalore Chapter and have monthly meetings. Dr. Kirti Shivakumar, Professor and Alumni Relations Coordinator and Mr. Ameet Kulkarni organized the meet.