Diploma in Entrepreneurship at KLS IMER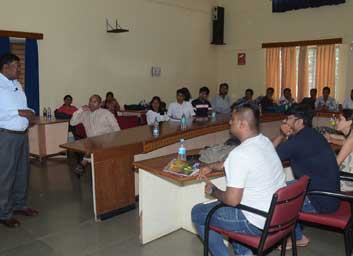 KLS IMER in Association with Entrepreneurship Development Institute of India (EDII), Ahmedabad, Gujarat offer one year Diploma in Entrepreneurship and Business Management (DEBM). The Course is offered through Open and Distance Learning and is recognized by the Distance Education Bureau & University Grant Commission (UGC). KLS IMER has signed a MoU with EDII and is recognized as Project Guidance Centre by EDII to offer this programme. The students enrolled for this programme will be getting Diploma in Entrepreneurship and Business Management by EDII along with their MBA degree.
The contact classes were conducted by the resource persons from EDII on 19th and 20th May 2017. Dr. Nanjappa, senior scientist from Defense Food Research Laboratory (DFRL) Mysore spoke on Opportunities in food processing and innovative technologies developed by DFRL in food processing and agro processing. Mr. Yeshaswi Nag, Project officer, EDII regional office from Bangalore spoke on preparation of Business Plan. The session was coordinated by Dr. Poornima M. Charantimath, Professor and Dr. Purushottam Bung, Director of the institute made the opening remarks.